April 2023
   4.3 – Quality Feeder Cattle  Sale
  4.17 – Feeder Cattle Sale 
May 2023
5.1 – Feeder Cattle & Pairs Sale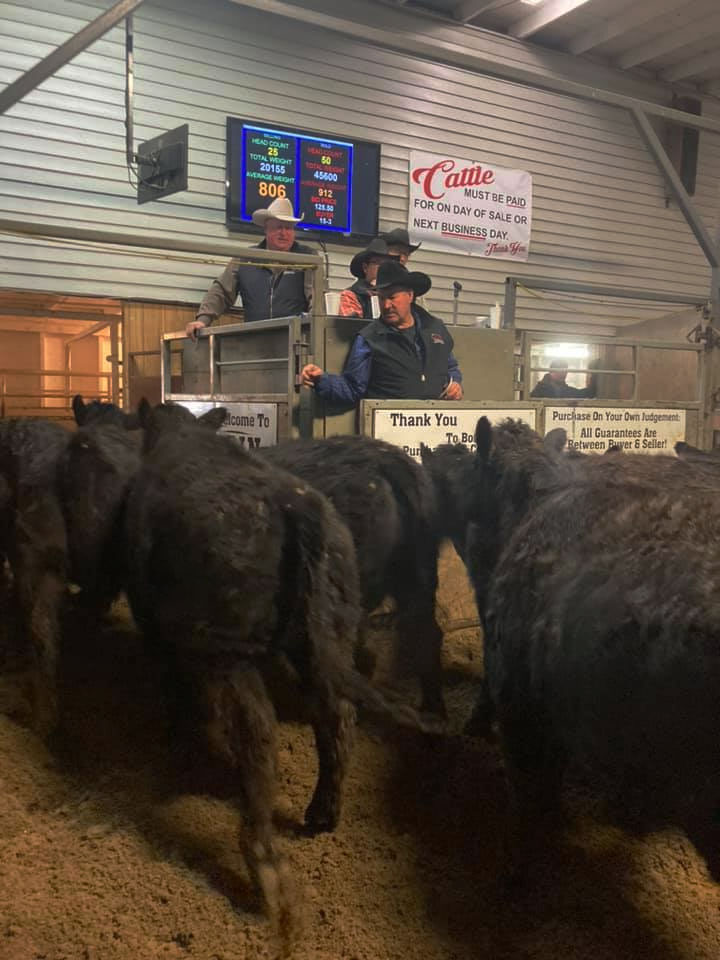 Grandpa Florian "Bud" Baum purchased the sale barn along with his partners, Bill Wirges, Alvin "Smokey" Moser, Ray Pelster, and Bill Kerkman in 1960. They sold all classes of cattle and hogs, even some sheep and horses occasionally. In 1979 the last partner was bought out by the Baum family.
Grandpa Bud passed on in 2002, but Grandma Doris Baum is in her 90's and continues to greet customers and do all the bookwork and payroll. Four sons, Dave, Dan, Ted and Chris, and their families continue the Baum Legacy. Ted, and wife JoAnn Baum manage the barn, consign cattle and gather videos.
Ted is one of our three auctioneers-along with Alan Norris and Corey Curtis, who also is a ringman and catches bids. Dave, and wife Fran Baum own Ten West Feedyard and Dave is an order buyer for the barn. Dan manages the cropland of Baum and Bros, Inc., is head of pen-backs, his wife Debbie manages the front counter, along with one of their two daughters, Ashley Bergman.
Chris and son, Trey Baum manage the cow herd out at the ranch, Chris is a ringman and catches bids, his wife Jeanine clerks ringside with one of their daughters, Devon. Devon also monitors the bids coming in online, and runs the website and Facebook page. Trey can be found sorting and driving cattle up horseback on sale days with long time-neighbor and friend, Jim Jennings. Jo Ann's son, Joe Dugan pushes cattle into the ring and keeps the mail funneling. Alice Morrison, Jason Koenig, Mark Dinslage, Greg Lineback, Tyler Childers, and Keith and Beau Heithoff are also members of the team as well, floating from drive-in's to pen-backs. The Baum family feels blessed to continue the tradition of selling cattle and promoting the cattle industry. It may not always be easy to keep a family business thriving, but can be extremely rewarding with good customers and friends bringing good cattle to town. We are grateful to live where we do and serve the area that we grew up and raise cattle in.
AUCTIONS
OUR AUCTIONS TAKE PLACE EVERY OTHER MONDAY AT 1PM
(Dates Are Subject to Change)
100 S Myrtle Elgin, NE 68636
CAFE
Our cafe is open during auctions only - auctions take place every Monday. 
Open Mondays during auction
Get In touch
Office Phone: (402) 843-2275
Ted Baum Direct
(402) 843-8370
Fax: (402) 843-5790
SALES DAY
Every Other Monday at 1:00pm
(Dates Are Subject to Change
Visit Us
PO Box 160
100 S Myrtle
Elgin, NE 68636
Thank you for visiting Elgin Livestock Sales, Inc. website and a big Thank You to all of our customers and families for the opportunity to market and advertise your cattle!
 From all of us at ELS